Click here to view this message in your browser.
LEGAL HOTLINE VIDEO PART 1
.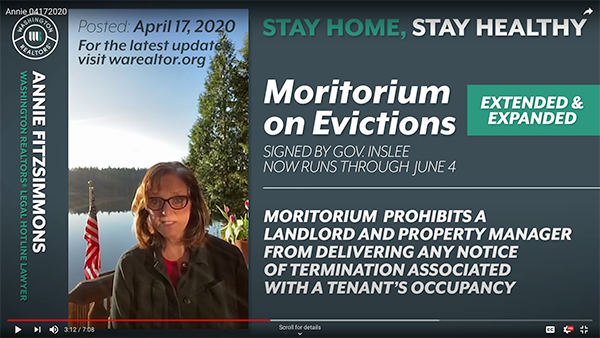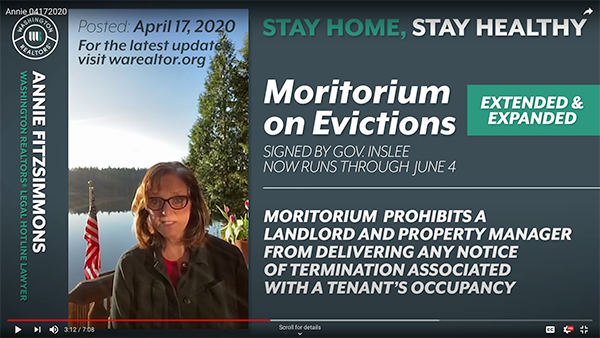 Gov. Inslee has placed a moratorium on evictions and it has been extended and expanded at a minimum through June 4th. This prohibits a landlord or a property manager from delivering any notice of termination associated with a tenant's occupancy. In light of that, can a seller with a tenant occupied property list, market and sell their property? WR Legal Hotline Lawyer Annie Fitzsimmons answers...
LEGAL HOTLINE VIDEO PART 2
.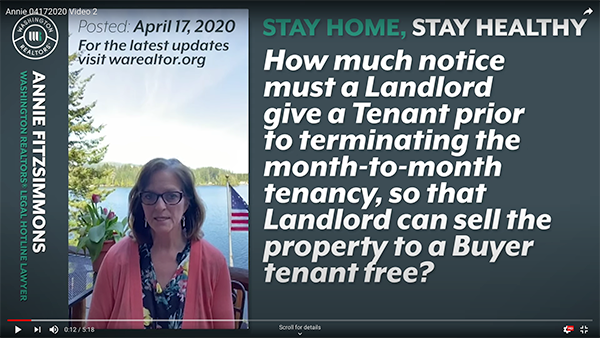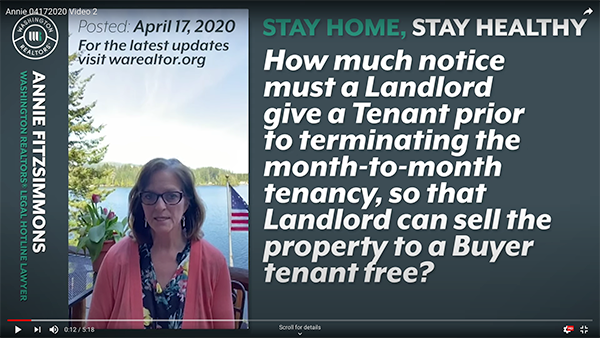 How much notice must a landlord give a tenant prior to terminating a month-to-month tenancy so that the landlord can sell the property to a buyer, tenant-free? WR Legal Hotline Lawyer Annie Fitzsimmons answers...
IMPORTANT UPDATES
.
NAR SEEKS MORE FUNDING FOR SBA PAYCHECK PROTECTION PROGRAM (PPP)
The National Association REALTORS® and other business groups are seeking additional federal funding for the Small Business Administration's Paycheck Protection Program. Congressional leaders are working on this issue as part of the next phase of federal legislation in response to the COVID-19 crisis. REALTORS® who sought PPP funds either for a real estate firm or as an independent contractor but were denied due to lack of funds should contact lenders participating in the PPP program to determine when funds may be available. Read NAR's letter to Congress on the PPP program.
ESD COMMISSIONER:
PUA/INDEPENDENT CONTRACTOR SYSTEM SHOULD BE FUNCTIONAL MONDAY, APRIL 20TH
Washington REALTORS® will follow up with more information next week about the process for filing for Pandemic Unemployment Assistance. In the meantime, all independent contractors should watch the Governor's press conference where he is joined by Suzi LeVine, Commissioner for Washington State Employment Security Department. LeVine provides a detailed update on the efforts of the WA ESD and the programs available...
FAIR HOUSING MONTH WHILE AT HOME
Each April, REALTORS® observe the anniversary of the passage of the Fair Housing Act of 1968 with events designed to educate about housing discrimination and segregation, and to recommit to expanding equal access to housing. This year, NAR is providing members with information and tools to observe Fair Housing Month at home.
NAR EXTENDS TELEHEALTH SIGN-UP
In the initial weeks of its introduction, more than 25,000 members and their families are receiving coverage through Members TeleHealthSM. Because of the tremendous response, NAR leaders have decided to extend the offer through May 31. The Leadership Team cited their strong feeling that REALTORS® and their families should have access to telemedicine at this time. Their message to members: "Stay home, stay safe. Nothing is more important than your health and welfare." The offer is also open to association executives in need, but enrollment is limited. 
PLEASE CONTINUE TO REFERENCE THESE FAQS 
We encourage you to continue reading through the NAR FAQs to understand what types of loans and unemployment assistance are available. These FAQs are updated with new information frequently...


THANK YOU FOR BEING A
WASHINGTON REALTORS® MEMBER!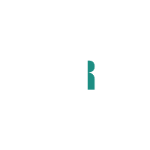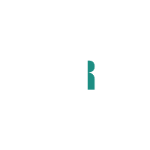 ©2020 Washington REALTORS® 
All Rights Reserved.
Toll Free : 800.562.6024 · Direct: 360.943.3100
Tech Helpline : 1-866-610-8939
or leave a message at 800.562.6027
Mailing : PO Box 719 Olympia, WA 98507-0719