Click here if you are having trouble viewing this message.
IMPORTANT UPDATES
.
WR SPRING BUSINESS CONFERENCE CANCELLED
The Washington REALTORS® Spring Business Conference scheduled for April 22-24th has been canceled due to the COVID-19 outbreak. We had to consider and balance many factors before making such an unprecedented and difficult decision. However, we now have received word that Skamania Lodge will be closing operations for 60 days, and therefore, we are formally announcing that the Spring Business Conference will not take place in a live format. 
MESSAGE FROM WR PRESIDENT KITTY WALLACE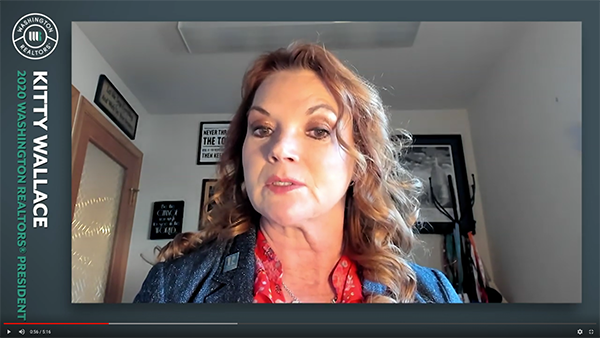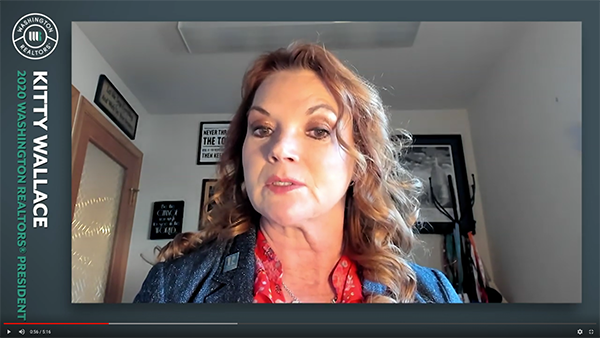 SCAMMERS ARE CAPITALIZING ON FEAR
Washington REALTORS® received an email this morning from a member who intercepted a wire fraud attempt upon one of their clients. The scammers were clever...they used an email address almost identical to the broker's email address and they established a sense of urgency, capitalizing on the buyer's fear of economic turmoil due to the coronavirus. Here is a sample of the language used in the email: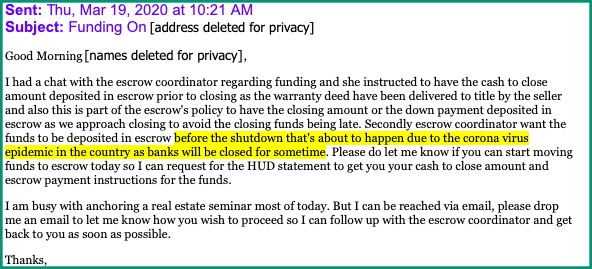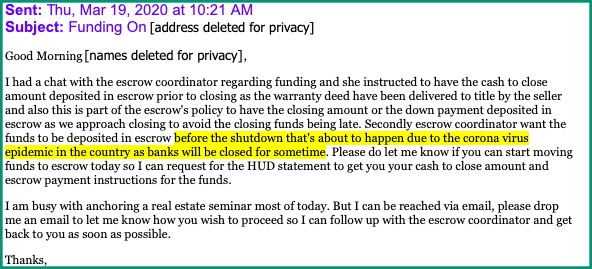 Please inform all of your clients about scams of this nature. Washington REALTORS® has a Wire Fraud awareness brochure that you can print and give (or email) to your clients.
COMMERCE ANNOUNCES NEW EMERGENCY HOUSING GRANT FOR COUNTIES
The Washington State Department of Commerce is making $30 million in funding immediately accessible to every county under a new grant. This funding will help local governments create housing necessary for quarantine, isolation, and additional sanitation to address the COVID-19 pandemic.
IRS DEADLINE FOR FILING & PAYING TAXES MOVED FROM APRIL 15 TO JULY 15
Treasury Secretary Steven Mnuchin tweeted Friday that the administration has moved the IRS deadline for filing taxes from April 15 to July 15 due to the disruption caused by the coronavirus. Since then, the IRS & Treasury Department have announced that they are providing special payment relief to individuals and businesses in response to the COVID-19 Outbreak...
STUDENT LOAN 60-DAY RELIEF
As part of the government's response to COVID-19, the U.S. Department of Education is dropping interest rates to zero on all federal student loans for 60 days and offering forebearance that does not count against the allotted time for hardship forebearnaces.
MANAGING STRESS, FEAR & ANXIETY 
The outbreak of coronavirus disease 2019 (COVID-19) may be stressful for people. Fear and anxiety about a disease can be overwhelming and cause strong emotions in adults and children. Coping with stress will make you, the people you care about, and your community stronger.
INTERNET TRAFFIC SURGES AS COMPANIES & SCHOOLS SEND PEOPLE HOME
More people are shifting to the digital world as life outside the home is put on hold. That's putting a lot of pressure on companies to keep connections up when all their employees are trying to telework at the same time. It's also posing challenges for Internet video conferencing services.
SMALL BUSINESS DISASTER RELIEF
The SBA offers disaster assistance in the form of low-interest loans to businesses, renters, and homeowners located in regions affected by declared disasters.
STUCK AT HOME? COMPLETE YOUR C2EX
C2EX is a program that empowers REALTORS® to demonstrate their professionalism and commitment to conducting business at the highest standards. The certification is free for REALTOR® members!


THANK YOU FOR BEING A
WASHINGTON REALTORS® MEMBER!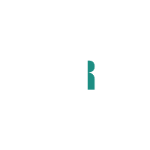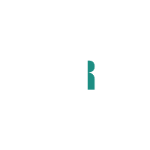 ©2020 Washington REALTORS® 
All Rights Reserved.
Toll Free : 800.562.6024 · Direct: 360.943.3100
Tech Helpline : 1-866-610-8939
or leave a message at 800.562.6027
Mailing : PO Box 719 Olympia, WA 98507-0719