Click here if you are having trouble viewing this message.


March 19, 2020 Edition
Washington REALTORS® recognizes that information regarding Covid-19 and its impacts on real estate has been changing daily, if not hourly. To keep you abreast of this quickly evolving situation, WR has decided to produce a "Daily Update" to aggregate important information. You can expect Daily Updates in your inbox first thing each morning Monday-Saturday for the near future. You can also expect frequent updates from WR President Kitty Wallace, WR Government Affairs Director Nathan Gorton and WR CEO Steve Francks.
IMPORTANT UPDATES
.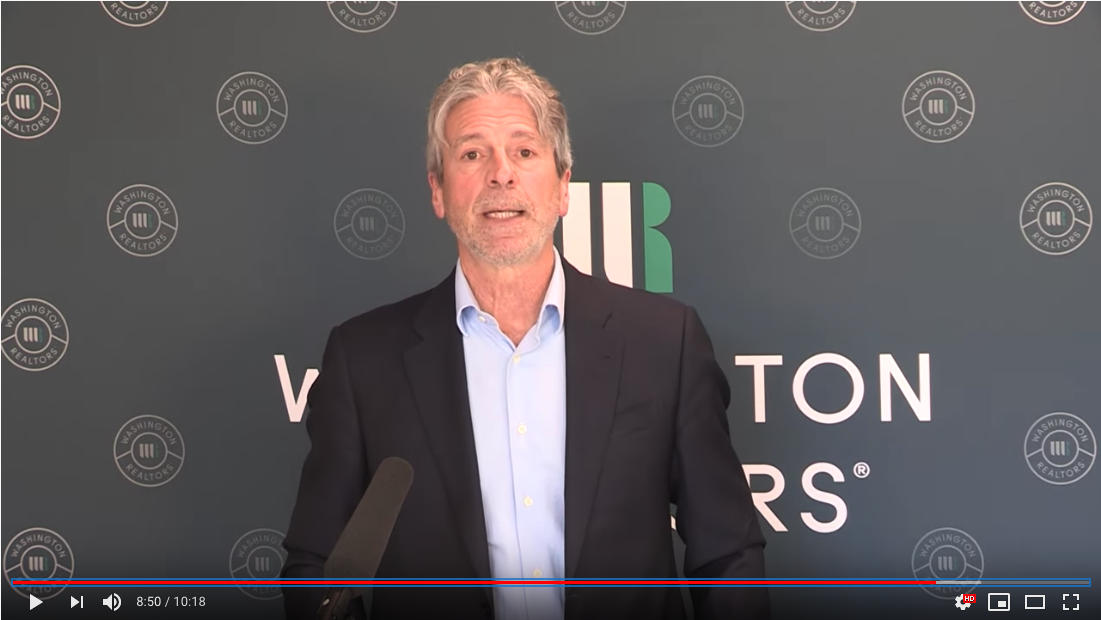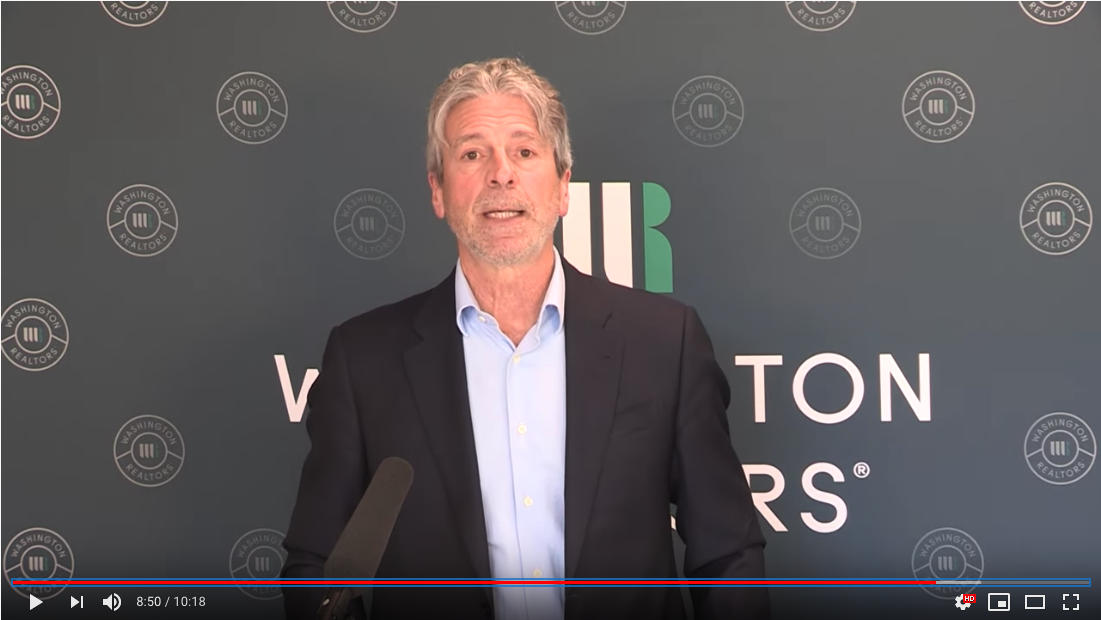 IMPORTANT UPDATE FROM WR CEO & GOVERNMENT AFFAIRS DIRECTOR:
WR CEO Steve Francks and Government Affairs Director Nathan Gorton clarify some of the most recent and important updates regarding COVID-19 Legislation, including some legislative requests we've made to Governor Inslee's office...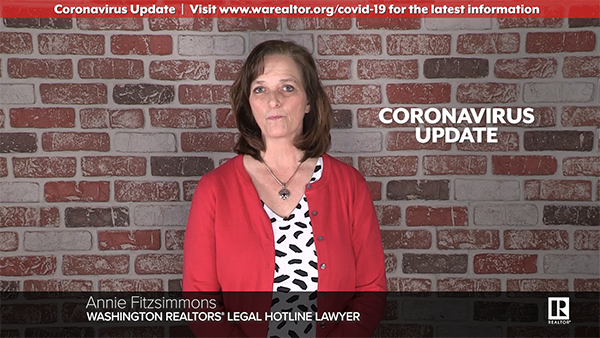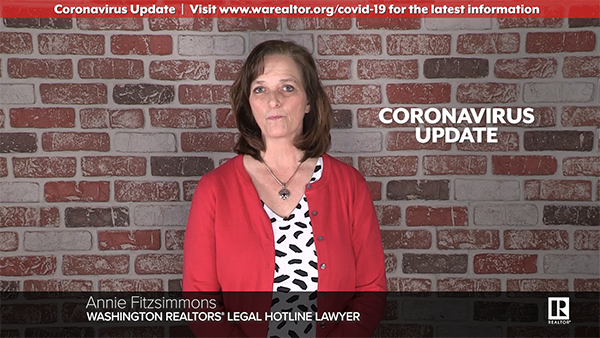 COVID-19 & REAL ESTATE UPDATE FROM WR LEGAL HOTLINE LAWYER ANNIE FITZSIMMONS:
WR has made a commitment to keep you as up-to-date and well informed as we possibly can. Annie covers the following in this video:
Protocols for Safety

Real-time Challenges 

New Form from NWMLS
NWMLS LEGAL BULLETIN 217 - FORCE MAJEURE 
Legal Bulletin 218 summarizes the new NWMLS form – Form 22FM (Force Majeure and Closing Addendum). New Form 22FM provides for extensions of contingencies/conditions and the closing date in the purchase and sale agreement for a limited amount of time should a force majeure event occur.  
NWMLS TEMPORARILY DISABLES OPEN HOUSE SCHEDULING FEATURE
NWMLS announced that it is temporarily disabling the open house scheduling feature of the MLS's Matrix system. Although we recognize the impact of this difficult decision on our members' businesses, this action is strongly supported by the Governor's office, and Washington Realtors leadership also supports it. Read the full notice...
COVID LEGISLATIVE UPDATES
.
WR ADDRESSES LETTER TO GOVERNOR INSLEE
Washington REALTORS has proposed the following items to Governor Inslee today. Read the full letter.
Penalty-free delay on property taxes due April 30, 2020. A penalty-free delay will ease the burden on homeowners and small businesses, which will benefit renters as well. 

Directing the Department of Financial Institutions to work with lenders to allow for delayed mortgage payments and implement other measures to prevent foreclosures.    

RCW 42.45.280 allows remote (electronic) notarization of documents in real estate financing and transactions, but this law is not effective until October 1, 2020. Accelerating the effective date of this legislation would assist transactions, while increasing social distancing. We would ask that you by emergency rule put this legislation into effect immediately.

Directing the Department of Licensing (DOL) to extend real estate licenses for all licensees who have not completed the required number of continuing education clock hours. Many REALTORS rely on in-person learning which typically occurs in large groups. Those classes are currently banned under Executive Order, so the Real Estate Commission within DOL should address this situation.   

While some local government functions can be delayed with minimal economic impacts, the role of counties in recording real estate transactions is critical to ensure economic activity and tax collection. The State should assist counties with necessary funding to ensure this essential economic and consumer function can continue.
GOVERNOR IMPOSES MORATORIUM ON EVICTIONS AND DELAY IN TAX COLLECTIONS
As workers and businesses brace for the economic fallout of the coronavirus pandemic, Gov. Jay Inslee Wednesday announced a 30-day statewide moratorium on evictions for residential tenants, putting the state in line with similar actions taken recently by the city of Seattle and King County's court and sheriff's office.
IMPACT ON REALTORS OF THE FAMILY FIRST ACT
Congress has passed the Families First Coronavirus Response Act H.R. 6201 with broad bipartisan support. 
FHFA IMPOSES MORATORIUM ON FORECLOSURES
To help borrowers who are at risk of losing their home, the Federal Housing Finance Agency (FHFA) has directed Fannie Mae and Freddie Mac (the Enterprises) to suspend foreclosures and evictions for at least 60 days due to the coronavirus national emergency. The foreclosure and eviction suspension applies to homeowners with an Enterprise-backed single-family mortgage.
CORONAVIRUS EMERGENCY LEGISLATION
What REALTORS® Need to Know
In residential real estate, some buyers always need to buy and some sellers always need to sell. Amid escalating concerns about the spread of COVID-19, the New York real estate business is pushing the pause button, but not the stop button.
WR & NAR RESOURCES & LINKS
.
WR COVID-19 RESOURCE PAGE
Washington REALTORS has put together a webpage on our site that includes the latest updates and resources for REALTORS during the Covid-19 pandemic...
NAR GUIDE FOR LOCAL ASSOCIATIONS
In response to the growing concerns about COVID-19, commonly referred to as coronavirus, NAR is providing this guidance to help REALTOR® associations respond to the coronavirus's impact on the real estate industry. 
NAR GUIDE FOR REALTORS
In response to the growing concerns about COVID-19, commonly referred to as coronavirus, NAR is providing this guidance to help REALTORS® respond to the coronavirus's impact on the real estate industry.


THANK YOU FOR BEING A
WASHINGTON REALTORS® MEMBER!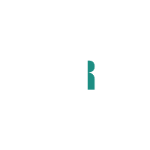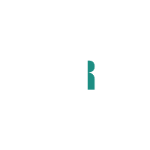 ©2020 Washington REALTORS® 
All Rights Reserved.
Toll Free : 800.562.6024 · Direct: 360.943.3100
Tech Helpline : 1-866-610-8939
or leave a message at 800.562.6027
Mailing : PO Box 719 Olympia, WA 98507-0719