Click here if you are having trouble viewing this message.


QUESTION: 
Is there a legal requirement to keep copies of offers presented but not mutually accepted?
ANSWER:
Yes.  When an offer is written, that provision of RE Brokerage Services must be captured on the firm's transaction log and a corresponding transaction folder must be maintained by the firm for at least three years following drafting of the buyer's offer, even if the offer is not accepted.
If the unaccepted offer is just one of several offers written by a buyer and a subsequent offer is accepted that also requires a transaction folder, the unaccepted offer can be maintained in the same transaction folder for this buyer but the unaccepted offer must be maintained and it must be maintained in such a way that DB can access the unaccepted offer should the Department of Licensing have questions about the unaccepted offer at some point in the following three years.  The same is true if the unaccepted offer is drafted by a listing agent. The unaccepted offer can be maintained in the firm's listing folder if that makes the most sense to the DB but again, the unaccepted offer must be accessible to a DOL auditor for three years.
With respect to "capturing" drafting of the offer on the firm's transaction log, it may be that the action of drafting the offer is the first entry on the transaction log and thus, has its own entry.  Or, if the transaction log already references this buyer because, perhaps a buyer agency agreement was signed by buyer and that BAA was recorded on the transaction log, then drafting this offer will not have its own entry.  Instead, the buyer will be identified on the transaction log by signing the buyer agency agreement and this unaccepted offer will be maintained in the same transaction folder created to hold the BAA.  Similarly, if a listing broker drafted this offer, there is likely no requirement to generate a new entry on the firm's transaction log since the listing of seller's property will already be an entry.
The Legal Hotline Lawyer does not represent Washington REALTORS or its members. To browse through our database of past Q & A's, visit www.warealtor.org. Attorney Annie Fitzsimmons writes the Legal Hotline Question and Answer of the Week. Please submit questions to legalhotline@warealtor.org or leave a message at 800.562.6027. Please include your NRDS number.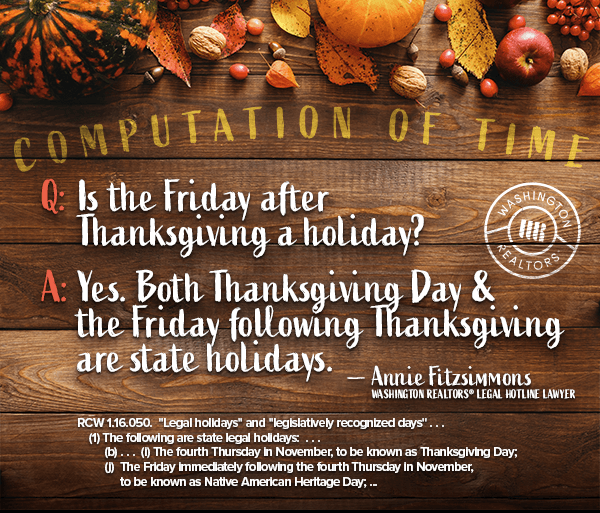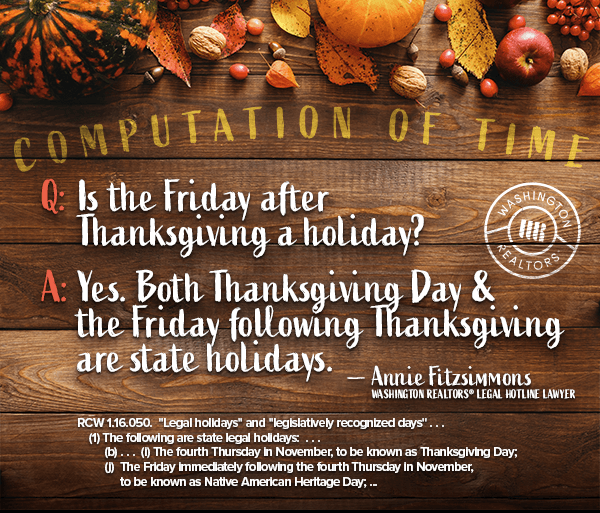 NFIP Extended to Dec. 20, 2019
BREAKING NEWS: Last night, Congress extended the National Flood Insurance Program (NFIP) through Dec. 20 avoiding a lapse which would've happened at midnight tonight. REALTORS® will keep fighting for a long-term reauthorization measure.
Undercover Investigation Reveals
Evidence of Fair Housing Violations​​​​
A recently released Newsday study reveals evidence of widespread Fair Housing violations by real estate agents in Long Island, New York. We recommend you read the study and watch the documentary embedded in the article. Washington REALTORS® will be developing additional Fair Housing education and tools for you – but for now, we suggest all REALTORS® watch this Fair Housing video series produced by Legal Hotline Lawyer Annie Fitzsimmons.


Home Sale Contingency Week 
One of the most difficult and form intensive transactions in real estate is the home contingency sale. WR Legal Hotline Lawyer Annie Fitzsimmons has brought back Ken Sax, Spokane Broker and Instructor, to discuss the forms involved and the strategies for both the Buyer Representative and the Seller Representative. We have dedicated a full week to the topic December 2nd through the 6th. Put it on your calendar and tell your co-workers this is a must-see series for new brokers and even the most seasoned brokers.
Juice Jacking
Security experts are issuing a warning to those who use USB chargers at airports, hotels, and other locations to power up electronic devices. You could be putting your personal data at risk. The Los Angeles County District Attorney's Office posted a scam alert at its site, warning that hackers can use USB power charging stations to put malware onto unsuspecting consumers' devices. The scam is called "juice jacking."


Source: Freddie Mac
U.S. weekly averages as of 11/21/2019
Trends Trade Show
Seattle Landlord/Tenant Law
Tuesday, December 10
WA State Convention Center | 3.0 CE 
NEW! Issues in Housing, Land Use & Water Rights for REALTORS
Tuesday, December 10
Live Webinar | 3.0 CE 
NAR Code
of Ethics
Thursday, December 19
Live Webinar | 3.0 CE 
NAR Code
of Ethics
Wednesday, February 05
Olympia | 3.0 CE 
CRB Designation Course: "Managing a
Multi-Generational Business"
Tuesday, March 17
Kennewick | 7.5 CE 
SRS Designation Course: "Seller Representativ
Wed-Thurs, March 18-19
Kennewick | 16 CE 


©2019 Washington REALTORS®
All Rights Reserved
Toll Free: 800.562.6024  Direct: 360.943.3100
Tech Helpline: 866.610.8939
Legal Hotline: Email legalhotline@warealtor.org
or leave a message at 800.562.6027
Click here to unsubscribe or to change
your Subscription Preferences.