Click here if you are having trouble viewing this message.


QUESTION: 
Mutual acceptance was reached July 15, 2019 with a closing date of August 25, 2019. The appraisal was late so the parties signed an extension of closing date on 8/21 extending the closing date to September 5, 2019. On 8/29, The appraisal came back low. Selling broker delivered notice of low appraisal on 8/30. On 9/4, Seller gave notice of rejection of low appraisal. Buyer could have waived the financing contingency or terminated the agreement. However, the closing date came and went with no further addenda between the parties, until the buyer sent over another extension of closing date on 9/6, which the seller signed on 9/9 (within two business days). However, I believe the contract was dead on 9/5, so the extension of closing date drafted on 9/6 doesn't mean anything since the contract died on 9/5. Shouldn't a new contract have been drafted after 9/5 if the parties desired to be in contract again? Or did the extension that was signed by the parties AFTER 9/5 revive the original contract?
ANSWER:
Effectively, the parties attempted to revive the terminated PSA and extend the closing date.  There is no reason they could not do that with an addendum.  In a perfect world, the extension addendum would have included language specifically reviving the terminated PSA but it is likely that if any court is asked to enforce this agreement, the court would conclude that the parties intended to revive the terminated PSA and extend the closing date.  Otherwise, extending the closing date was a meaningless action, something a court would be unlikely to conclude was intended by the parties.
The Legal Hotline Lawyer does not represent Washington REALTORS or its members. To browse through our database of past Q & A's, visit www.warealtor.org. Attorney Annie Fitzsimmons writes the Legal Hotline Question and Answer of the Week. Please submit questions to legalhotline@warealtor.org or leave a message at 800.562.6027. Please include your NRDS number.


Code of Ethics Update
NAR's Board of Directors approved a change to the Code of Ethics training requirement. The change extends the training requirement from every two years to every three years and extends the current Cycle 6 deadline from Dec. 31, 2020, to Dec. 31, 2021. The next cycle (Cycle 7) will begin Jan. 1, 2022, and end Dec. 31, 2024.
Washington Listed as #1
Washington is the best state in the nation according to a new analysis by U.S. News & World Report. The American rankings and analysis website factored in health care, education, economy, infrastructure, opportunity, fiscal stability, crime and corrections, and natural environment to create its annual list of the best and worst U.S. states.
Housing Could Buoy Economy in 2020
Housing added to economic growth in the third quarter for the first time in more than a year and a half. That momentum will likely continue in the fourth quarter and the first half of 2020, according to the latest forecast from Fannie Mae's Economic and Strategic Research Group.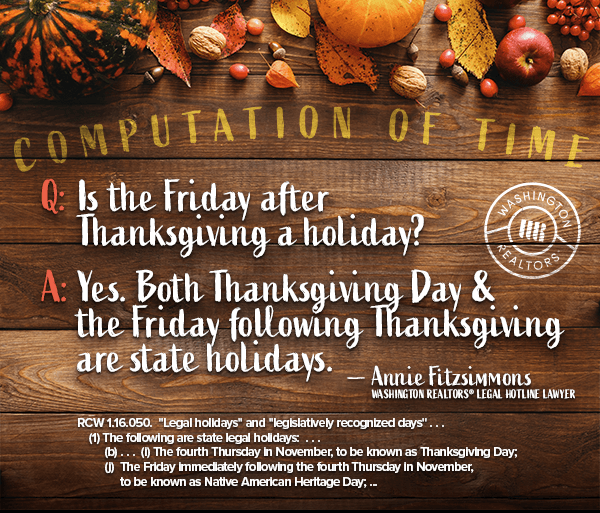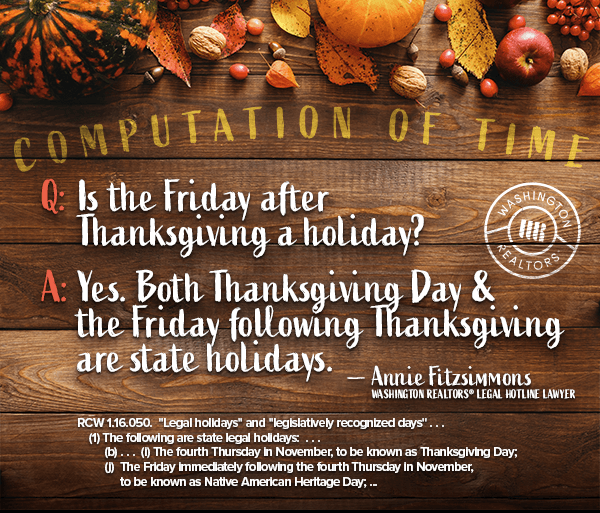 Home Sale Contingency Week 
One of the most difficult and form intensive transactions in real estate is the home contingency sale. WR Legal Hotline Lawyer Annie Fitzsimmons has brought back Ken Sax, Spokane Broker and Instructor, to discuss the forms involved and the strategies for both the Buyer Representative and the Seller Representative. We have dedicated a full week to the topic December 2nd through the 6th. Put it on your calendar and tell your co-workers this is a must-see series for new brokers and even the most seasoned brokers.


Source: Freddie Mac
U.S. weekly averages as of 11/14/2019
Top Shelf
Bus. Practices
Thursday, November 21
Spokane | 3.0 CE 
Social Media
Marketing
Thursday, November 21
Spokane | 3.5 CE 
Trends Trade Show
Seattle Landlord/Tenant Law
Tuesday, December 10
WA State Convention Center | 3.0 CE 
NEW! Issues in Housing, Land Use & Water Rights for REALTORS
Tuesday, December 10
Live Webinar | 3.0 CE 
NAR Code
of Ethics
Thursday, December 19
Live Webinar | 3.0 CE 
NAR Code
of Ethics
Wednesday, February 05
Olympia | 3.0 CE 
CRB Designation Course: "Managing a
Multi-Generational Business"
Tuesday, March 17
Kennewick | 7.5 CE 
SRS Designation Course: "Seller Representativ
Wed-Thurs, March 18-19
Kennewick | 16 CE 


©2019 Washington REALTORS®
All Rights Reserved
Toll Free: 800.562.6024  Direct: 360.943.3100
Tech Helpline: 866.610.8939
Legal Hotline: Email legalhotline@warealtor.org
or leave a message at 800.562.6027
Click here to unsubscribe or to change
your Subscription Preferences.