Click here if you are having trouble viewing this message.


QUESTION: 
I have seen numerous offers lately, where buyer's agent attached the MLS listing sheet to the offer and then had all parties to the agreement initial it, as if it was part of the contract. Are there any possible pit falls to doing this as a normal course of business?
ANSWER:
Yes! Listing broker should NEVER allow seller to initial the MLS printout and make it part of the PSA. First, the MLS printout is not properly part of the PSA. The PSA sets forth the terms of agreement between buyer and seller. The listing print out is a written representation of seller's offer to sell and pay a broker's commission along with seller's and listing broker's representations regarding the property. The MLS printout never constitutes terms of sale. 
Typically, when a buyer includes the MLS printout as part of buyer's offer, instructing that seller must initial the MLS printout, making the printout part of the agreement, it is because buyer is trying to lock seller into something said in the MLS printout that may not have been incorporated in the terms of the PSA. Buyer's/buyer broker's thought, wittingly or unwittingly, is that buyer will have a stronger case against seller, after closing, if buyer chooses to sue seller based on the condition of the property or some event that occurred prior to closing and possession. Again, listing broker should always remove any MLS printout from a buyer's offer before seller accepts or counters. Removal of the MLS printout from the agreement before seller signs does not, in and of itself, constitute a counter offer by seller. This is because the MLS printout does not set forth terms of agreement. It is an extraneous document included in buyer's offer and it should be removed by listing broker before seller accepts or counters buyer's offer.  
The Legal Hotline Lawyer does not represent Washington REALTORS or its members. To browse through our database of past Q & A's, visit www.warealtor.org. Attorney Annie Fitzsimmons writes the Legal Hotline Question and Answer of the Week. Please submit questions to legalhotline@warealtor.org or leave a message at 800.562.6027. Please include your NRDS number.


WA Among Top States With High Job Growth
All states had job gains in June, with the strongest gains in the South and West states. Download the infographic.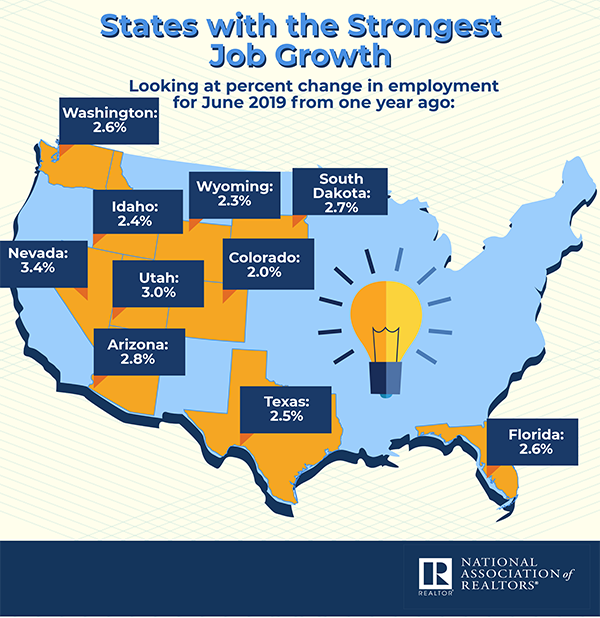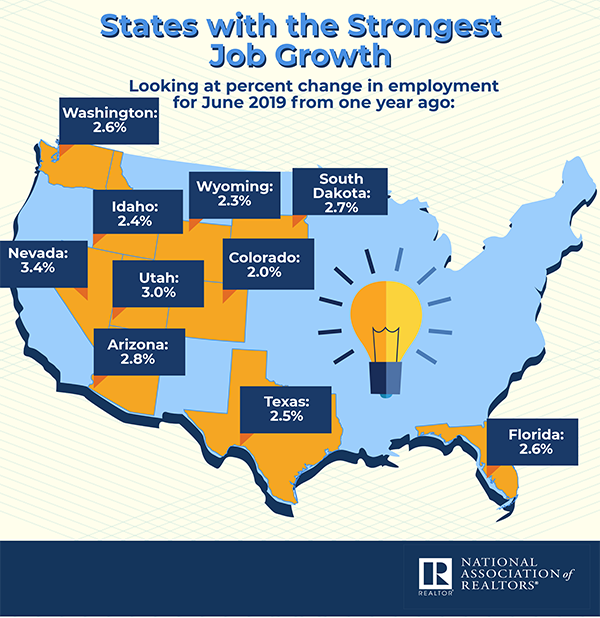 5 Key Factors Driving Brokerage Profitability
Brokerages' gross margins and company revenues are continuing to face downward pressure, according to a new report from REAL Trends looking at brokerage profitability. However, some brokerages are standing out from the pack and maintaining and driving profits.
Economists say 2020 recession likely, but housing market won't be the cause...
According to a panel of more than 100 housing experts and economists, the next recession is expected to hit in 2020. A few even said it may begin later in 2019, while another substantial portion predict that a recession will occur in 2021. But unlike last time, the housing market won't be the cause.




Start with why. Finish with how.
"A brand's 'why' (i.e., its mission or purpose) is an internal device that gives the brand meaning and direction. However, as an outward-facing message, a brand's 'why' is not enough of an idea to create the meaningful or personal connection needed to invite people into a brand experience and get them to take action."
The Most Common Problems Uncovered in Home Inspections - Shareable Graphics
REALTOR Magazine reveals the top problems uncovered in inspections, the average cash savings on items found, and some other general inspections statistics...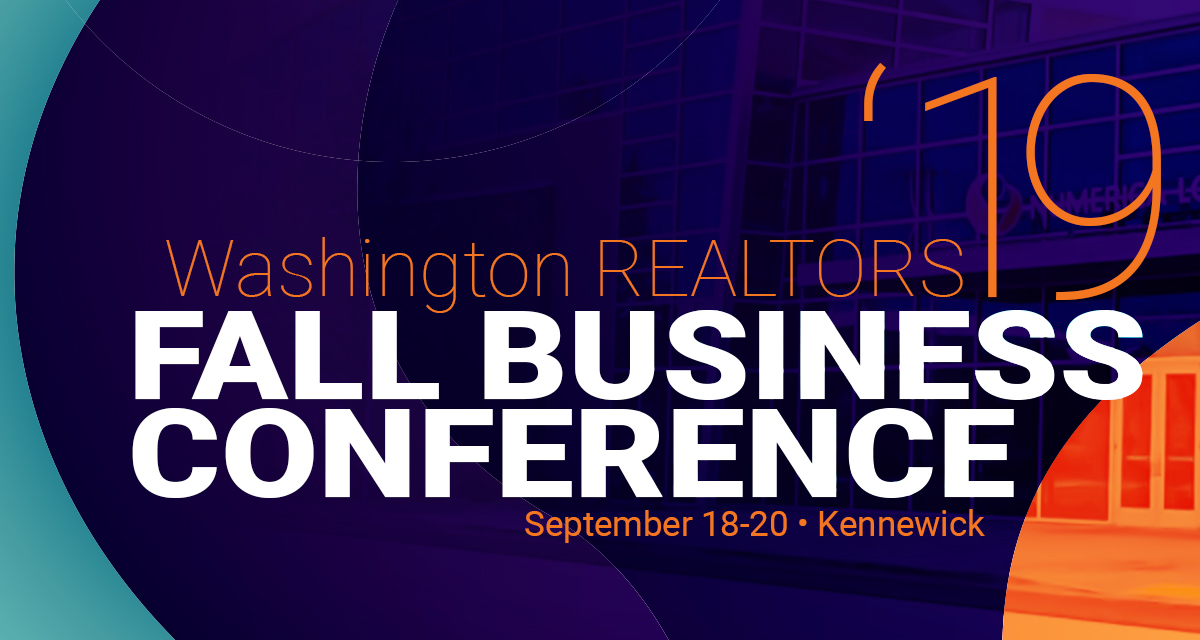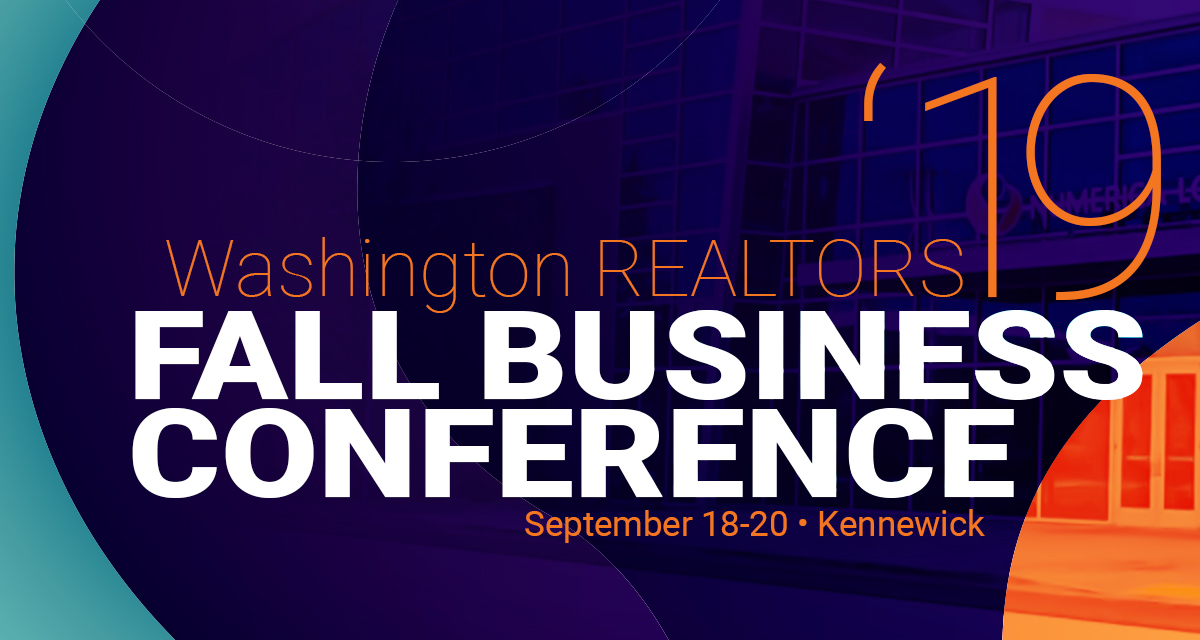 WR Fall Business Conference
Registration opens August 12th at noon for the Washington REALTORS® Fall Business Conference. You can book your hotel room using the room block now, however! The event is scheduled for Sept. 18-20 at the Three Rivers Convention Center in Kennewick. We're looking forward to seeing you all there!


Registration is Open for Draft Like a Lawyer
Annie covers fundamentals of the statewide residential forms, drafting skills and how to use the forms as a system to accomplish your client's unique goals in this 2-day class. The class will take place on Sept. 25-26 at the Doubletree Hotel in SeaTac. Register today!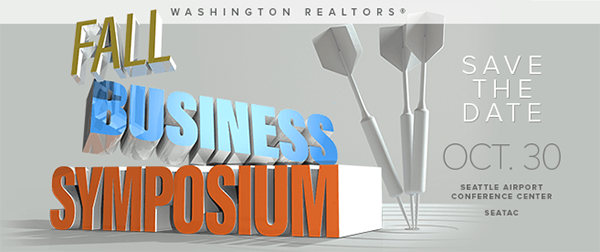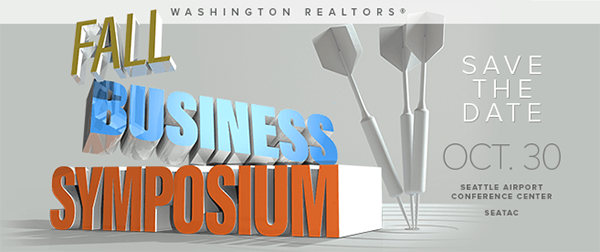 Registration Coming Soon!
This popular symposium event gets you 7.5 CE and a full day of information designed to help you succeed in your real estate business. This event will take place on Oct. 30th and we'll be back at the Seattle Airport Conference Center. Stay tuned for more information!




Source: Freddie Mac
U.S. weekly averages as of 07/25/2019


Real Estate Safety Matters
Wednesday, July 31 | Port Angeles | 3.5 CE 
This course is an essential primer on how real estate professionals can limit risk to preserve safety - their safety, their clients' safety - and for positive business outcomes. Students will learn how to assess risk in their current practice and create safety systems, scripts, and tools for listing appointments, showing property, and conducting open houses. Students will also learn how to protect personal and electronic information online, in the cloud, and on social networks...
Increasing Your SEO & Online Traffic
Wednesday, July 31 | Port Angeles | 4.0 CE 
Improving your SEO (search engine optimization) is crucial to building a robust online presence. This class covers why REALTORS® who blog have an edge, how they do it, how they market it, and how to write your own...
Regional Professional Standards
Thursday, August 8 | Olympia | 7.5 CE 
This course provides agents with the latest in high customer service standards through a look at the Code of Ethics and the changes that have been implemented for the current year...
NAR Code of Ethics  
Thursday, August 8 | Olympia | 3.0 CE 
Identify key aspirational concepts found in the Preamble to the NATIONAL ASSOCIATION OF REALTORS® Code of Ethics, describe "general business" ethics, and compare and contrast the REALTORS®' Code of Ethics with business ethics and more...


©2019 Washington REALTORS® All Rights Reserved
Toll Free: 800.562.6024  Direct: 360.943.3100
Tech Helpline: 866.610.8939
Legal Hotline: Email legalhotline@warealtor.org
or leave a message at 800.562.6027
Click here to unsubscribe or to change
your Subscription Preferences.