Click here if you are having trouble viewing this message.

QUESTION: 
I just wanted to confirm that if a five-day inspection period was asked for, does this include weekend days? Mutual agreement was 04/11/19. What day is buyer's response to the inspection due?
ANSWER: 
Any time period, measured in days, and including five days or less includes business days only. The five-day inspection period does not include weekend days. The five-day inspection period triggered by mutual acceptance on Thursday, April 11 will end at 9 pm on Thursday, April 18. The-five day period includes Friday, April 12 ... Monday, Tuesday, Wednesday and Thursday, April 18.
The Legal Hotline Lawyer does not represent Washington REALTORS or its members. To browse through our database of past Q & A's, visit www.warealtor.org. Attorney Annie Fitzsimmons writes the Legal Hotline Question and Answer of the Week. Please submit questions to legalhotline@warealtor.org or leave a message at 800.562.6027. Please include your NRDS number.

WR Fights Off Bill to Limit Dual Agency
A big win! Washington REALTORS® and leaders at the Building Owners and Managers Association (BOMA) took a stand against a bill that would limit in-house transactions and would have significantly impacted our Commercial REALTORS®. Read the REALTOR® Magazine article...
Another 'Unlock the Door' Bill Passes
Over the weekend, HB 1923 passed the Senate 33-12. HB 1932 creates a menu of local options for density, including affordable housing considerations. A big thanks to all involved helping to 'Unlock the Door for Affordable Homeownership'. 
REALTOR® Safety Network Launched
A new tool was launched last month in an effort to make it easier for members to inform each other of dangerous incidents. Members can submit incident reports online and a response team will evaluate the submission to confirm it meets the criteria for a REALTOR® Safety Alert. 

Buyer Love Letters...
A 'Buyer Love Letter' could be letters, videos, photos, or any communication accompanied by an offer from a potential buyer to appeal to the seller...and they could get you into hot water. 
Spring Cleaning Tips for Your Technology
One of the rituals of the spring – in addition to home buying season – is spring cleaning. It's a time when many of us clean, declutter and purge throughout our homes. But what about our technology: our laptops and smartphones?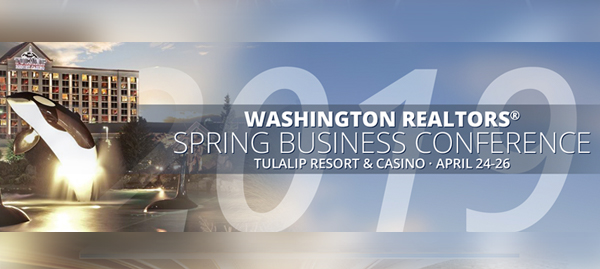 Early Bird Rates End Tomorrow the 17th!
After tomorrow (Wednesday, April 17th), online registration will be closed. Don't worry, you can still register on site! See you at the #2019WRSBC! 

Filling Up Fast
We've already had undreds of people sign up so secure your place at the Legal Symposium today. We have six attorneys lined up for an info-packed day on May 30th in SeaTac. 7.5 CE & Lunch included.
The Line-up: WR Legal Hotline Lawyer Annie Fitzsimmons; Justin Haag, General Counsel for the NWMLS; Mark Schedler with Williams Kastner; Hunter Jeffers and Chris Osborn with Stohl Rives; and David Daniel with Demco Law Firm.

Source: Freddie Mac
U.S. weekly averages as of 04/11/2019


Upcoming Classes...
When Article 12 Meets Social Media
Tuesday, April 30 | Walla Walla | 3.5 CE 
Professional Standards Express
Tuesday, April 30 | Pullman | 4.0 CE 
Statewide Forms - Full Day
Thursday, May 2 | Wenatchee | 7.5 CE 
VAMRES
Thursday, May 2 | Olympia | 7.5 CE 
A Deal in a Day
Friday, May 3 | Moses Lake | 7.5 CE 

©2019 Washington REALTORS® All Rights Reserved
Toll Free: 800.562.6024  Direct: 360.943.3100
Tech Helpline: 866.610.8939
Legal Hotline: Email legalhotline@warealtor.org
or leave a message at 800.562.6027
Click here to unsubscribe or to change
your Subscription Preferences.