Click here if you are having trouble viewing this message.

QUESTION: Can we do a commission structure on any transaction type that is say, at this price and terms, we get paid 2%, under that we get 1%, over that we get 3% or 25% of the amount over the agreed to range?
ANSWER: A sliding scale commission is disfavored for many reasons.  First, it would be difficult for a listing broker to substantiate why they could get more for a seller's property ONLY if the broker is paid more.  This would seem to conflict with broker's duty to exercise reasonable skill and care and to take no action that is adverse or detrimental to seller's interests in a transaction, in all situations, regardless of the amount of compensation.  It would also create a skewed outcome if, for example, broker gets 2% for a price of $101,000 but only 1% for a price of $100,000.  In that scenario, seller would net less with the higher price than with the lower price but listing broker would make twice the compensation.Finally, a sliding scale commission rate creates an unavoidable conflict for the buyer broker whose compensation increases as the price increases.
If broker intends to pursue a sliding scale commission rate, broker should consult first with broker's designated broker and with legal counsel.
The Legal Hotline Lawyer does not represent Washington REALTORS or its members. To browse through our database of past Q & A's, visit www.warealtor.org. Attorney Annie Fitzsimmons writes the Legal Hotline Question and Answer of the Week. Please submit questions to legalhotline@warealtor.org or leave a message at 800.562.6027. Please include your NRDS number.

Your Input on the WR Logo
The Washington REALTOR® logo is now 15 years old and in need of a refresh for the digital age. Our current logo is a little too detailed and it is hard to recognize on smaller screens. Will you help us make sure the redesign reflects the values and integrity of the Washington REALTORS® by completing a short online survey? On average, this survey takes about seven minutes to complete.
Good Neighbor Awards Nominations Open
The National Association of REALTORS® Good Neighbor Awards recognize REALTORS® who make extraordinary commitments to improving the quality of life in their communities. We KNOW we have many REALTORS® in Washington State who do just that. Nominations are open through May 10th. Let's get as many Washington State REALTORS® nominated as possible!
Update on Litigation
You may have heard about the litigation involving NAR and several MLSs challenging the way that broker commissions are paid. Washington REALTORS® and Washington State MLSs are not named in the lawsuit. However, in the interest of updating our members, we want to share this information provided by NAR General Counsel Katie Johnson and will share future updates as we receive them...

CODE & CORE...There's a Difference
There has been an uptick in calls to the Department of Licensing where brokers are confusing the Code of Ethics required member training with the CORE licensing education requirement. Remember the distinction to save yourself a bit of grief when trying to satisfy your licensing and member requirements:
CODE:
All REALTOR® members are required to complete the REALTOR® Code of Ethics training every two calendar years. This is a REALTOR® membership requirement and the current cycle runs between January 1, 2019 and December 31st 2020. If you take this as a class with clock hour approval, it can be applied to your license renewal requirement as part of your 30-hour total.
CORE:
All Washington real estate licensees (including REALTORS®) are required to complete 30-hours of approved continuing education, to include a 3–hour CORE Course (aka Current trends and issues in residential/commercial real estate in Washington). This is a Department of Licensing requirement and is also on a 2-year cycle based on your date of licensure.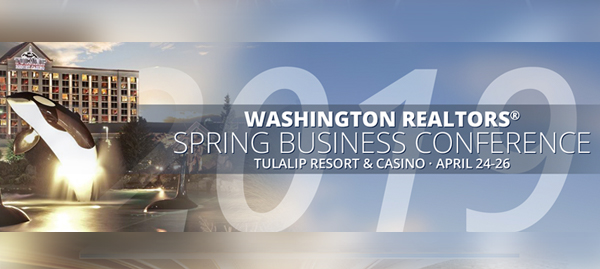 WR Spring Business Conference
Registration for the Washington REALTORS® Spring Business Conference opens up on March 13th! We're back at the beautiful Tulalip Resort on April 24-26th. We hope to see you there!

Registration is Open!
The attorneys are back. Washington REALTOR® Legal Symposium packs the house every year so register today. We have six attorneys lined up for an information-packed day on May 30th in SeaTac. 7.5 CE & Lunch included. 
The Line-up: WR Legal Hotline Lawyer Annie Fitzsimmons; Justin Haag, General Counsel for the NWMLS; Mark Schedler with Williams Kastner; Hunter Jeffers with Foster Pepper Attorneys, Chris Osborn with Foster Pepper Attorneys; and David Daniel with Demco Law Firm.

Source: Freddie Mac
U.S. weekly averages as of 03/21/2019


Upcoming Classes...
Statewide Forms - Full Day
Thursday, April 4 | Walla Walla | 7.5 CE 
Current Trends & Issues
Thursday, April 4 | Bellingham | 3.5 CE 
Put a SOC In It
Wednesday, April 10 | Walla Walla | 7.5 CE 

©2019 Washington REALTORS® All Rights Reserved
Toll Free: 800.562.6024  Direct: 360.943.3100
Tech Helpline: 866.610.8939
Legal Hotline: Email legalhotline@warealtor.org
or leave a message at 800.562.6027
Click here to unsubscribe or to change
your Subscription Preferences.