Get the Facts is a Membership update sent to Washington REALTOR® members and contacts each Tuesday.  
Click
here
if you are having trouble viewing this message.
Weekly Membership Newsletter
August 7, 2018 • Stay Connected!
MOVING DAY IS FINALLY HERE!  
The Washington REALTORS® building is complete and staff will be relocating back to
504 14th Avenue SE, Olympia, WA 98501
. Our office will be closed and our phone system will be down between Friday, August 10th at noon and Monday August 13th. We will reopen on Tuesday, August 14th at 8:30AM and phone service should be restored by then as well. We will do everything in our power to minimize impact to our members during the move and if you need immediate assistance, you can submit a contact form through our website at
https://www.warealtor.org/contact-us
. Staff will respond as soon as they are able. Thank you for your patience! 
QUESTION:  We have a closing scheduled for today. On Saturday we issued a notice of low appraisal. Seller is not responding to the notice. The seller's agent wants us to switch lenders and won't talk to the seller about the notice until we agree to switch lenders. What do we need to do to protect earnest money given the expiration of the notice has not come yet, but tonight we will be out of contract?
---

ANSWER:  Listing broker has a duty to timely present all offers and other written communications from buyer to seller. Listing broker has no authority to withhold this communication from seller and doing so may constitute a violation of the Agency Law. Buyer broker and buyer should insure that buyer has taken all steps necessary to insure buyer's compliance with the Financing Contingency. Buyer should be sure to obtain a letter form buyer's original lender, as required by Form 22A, paragraph 5. The letter must show that buyer made loan application within five days of mutual acceptance, that buyer had sufficient funds to close the transaction, had the loan been issued and the reason the loan was declined. Buyer should review Form 22A, paragraph 5, to insure that the letter meets all requirements for buyer to recover buyer's EM. With that, buyer is not required to demand return of the EM prior to closing or even notify seller of the sale fail, prior to closing. If buyer wants to entertain listing broker's idea of making loan application with another lender, this will give buyer time to make and execute that decision. If buyer chooses to extend the closing date and keep the financing contingency in place (buyer must be certain not to waive the financing contingency), while making a new loan application with seller's preferred lender, buyer can do that but has no obligation to do so. Protection of buyer's EM, at this point, depends upon buyer obtaining the Form 22A, paragraph 5 letter from buyer's original lender. The letter can be provided to seller once it becomes clear that buyer will not ever close the transaction and wants to recover EM.
 

The Legal Hotline Lawyer does not represent Washington REALTORS or its members. To browse through our database of past Q & A's, visit www.warealtor.org. Attorney Annie Fitzsimmons writes the Legal Hotline Question and Answer of the Week. Please submit questions to legalhotline@warealtor.org . Please tell us your NRDS number when you e-mail the Hotline with your question.



Reasons Behind Lower Sales Volume
Lawrence Yun, Chief Economist for NAR, addresses speculation of lower sales volume and the reasons behind lagging sales in this Voice for Real Estate video:
Fed Leaves Rates Alone But Hints at Future Hikes
(Source:
REALTOR® Magazine
) The Federal Reserve decided Wednesday to hold off on raising its short-term interest rates. But it hinted that it likely will deliver its third interest rate increase of the year at its next meeting in late September.
Overcoming Personal Adversity While Building
a Real Estate Career
(Source:
YPN Lounge
) Real estate is a tough business; not for the faint at heart. Many of us work 60 to 70 hour weeks without any assurance that the deals we are working on will actually produce results. Work is hard enough, but what happens when you go through something hard, personally? 
5 Staging Moves Real Estate Agents Will Do to Every Home (No Matter How Pretty It Already Is)
Here are five simple things that you can have your sellers do to create great first impressions for buyers.
| | | | |
| --- | --- | --- | --- |
|  Average Rates |  4.60% |  4.08% |  3.93% |
|  Fees & Points |  0.4 |  0.4 |  0.2 |
|  Margin |  N/A |  N/A |  2.76 |
---
| | | | |
| --- | --- | --- | --- |
|  Average Rates |  4.54% |  4.02% |  3.87% |
|  Fees & Points |  0.5 |  0.4 |  0.4 |
|  Margin |  N/A |  N/A |  2.76 |
---
| | | | |
| --- | --- | --- | --- |
|  Average Rates |  4.52% |  4.00% |  3.87% |
|  Fees & Points |  0.4 |  0.4 |  0.3 |
|  Margin |  N/A |  N/A |  2.76 |
---
| | | | |
| --- | --- | --- | --- |
|  Average Rates |  4.53% |  4.02% |  3.86% |
|  Fees & Points |  0.4 |  0.4 |  0.3 |
|  Margin |  N/A |  N/A |  2.76 |
---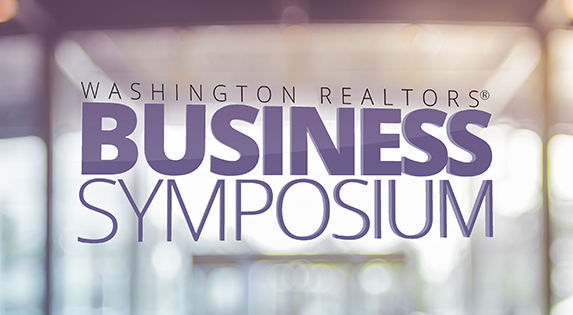 REGISTRATION IS OPEN FOR THE SYMPOSIUM
Jackie Leavenworth is back! Join Washington REALTORS® at the Fall Business Symposium on September 13th for a full day including three engaging sessions taught by Jackie. We'll be back at the SeaTac Conference Center at the Airport for this one
7.5 CE, parking, and lunch are included
.
Register today!
COE WEBINARS ARE BACK BY DEMAND
Washington REALTORS® will host COE Webinars starting in August to assist members with completing the mandatory training. Don't wait until the last minute, though! These webinars are capped and they fill up fast...