Get the Facts is a Membership update sent to Washington REALTOR® members and contacts each Tuesday.  
Click
here
if you are having trouble viewing this message.
Weekly Membership Newsletter
May 29, 2018 • Stay Connected!
QUESTION:  So many agents do not include a proper Exhibit A with their listings, and instead use an old deed with initials. Is this acceptable? Also, if only one party initials the Ex A, or none do, is this acceptable?
---

ANSWER:   Neither of these questions can be answered with certainty, in the absence of surrounding facts. It is easy to imagine a scenario where any of the bad practices described in the question could lead to a sale fail with a corresponding claim of negligence against a broker. If both parties are committed to the closing of the transaction from mutual acceptance through closing, then the bad practices described in the question will not matter because if there are any problems, the parties will easily and happily agree to fix the problems and press on.
The import of the question asked only comes into play in scenarios where one party wants out of the transaction. Then, the question is ... will the Ex. A, as included, constitute a deficiency in the agreement, rendering the PSA unenforceable? That is the only question that matters and since the answer to that question will be "yes" if the Exhibit A is incompetent, the industry has created best practice protocols around this issue that may not be fully appreciated by any broker until the broker has had to explain to his/her client why the agreement that broker drafted is actually unenforceable, allowing the other party to escape without consequence.
Best practices demand that the Exhibit A be the Ex. A prepared by a title company and attached to a preliminary commitment for title. To accomplish this, listing broker MUST order the preliminary commitment for title as soon as the listing is taken and attach the Ex. A as an attached document to the MLS listing as soon as the Ex. A is available. Will the use of an old warranty deed cause a problem? It could cause a problem if it is no longer an accurate reflection of the legal description of the property. Legal descriptions can change over time, as easements are granted or revoked, as quiet title actions unfold, as boundaries are modified, etc. As a result, the preliminary commitment Ex. A is the only reliable legal description to use. If an old warranty deed is used by parties until a preliminary commitment is available, then the old deed should be replaced with a title company, preliminary commitment Ex. A as soon as it is available.
As for initialing, best practices demand that both parties date and initial attachment of the Ex. A to avoid all arguments later about whether a party knew that Ex. A was attached and/or what Ex. A says. Disagreements regarding the enforceability of the PSA are possible if a party can argue that the Exhibit A was not attached when the party signed the PSA or that a different legal was attached or some other argument along those lines. All of those arguments are quieted if the correct Ex. A was initialed and dated by both parties at the time of mutual acceptance.
 

The Legal Hotline Lawyer does not represent Washington REALTORS or its members. To browse through our database of past Q & A's, visit www.warealtor.org. Attorney Annie Fitzsimmons writes the Legal Hotline Question and Answer of the Week. Please submit questions to legalhotline@warealtor.org . Please tell us your NRDS number when you e-mail the Hotline with your question.




Existing-Home Sales
(Source:
Economists' Outlook
) NAR released a summary of existing-home sales data showing that housing market activity this April fell 2.5 percent from last month and dropped 1.4 percent from last year. April's existing home sales reached 5.46 million seasonally adjusted annual rate.
AI, Blockchain and More: The Influence of Innovation in Real Estate
(Source:
RIS Media
)Machine learning, artificial neural networks, natural language processing and data dictionaries—these terms were all highlighted during the Emerging Business and Technology, Robots & Realities forum, "Artificial Intelligence: Virtual & Augmented Reality, and What They Mean to REALTORS®," that took place during this year's REALTORS® Legislative Meetings & Trade Expo in Washington, D.C.
Is it Stellar Service or Extraordinary Risk?
A Legal Hotline Article:
A broker recently explained a problem that she faces often. Her explanation went like this, "When I represent a seller, and help negotiate seller's response to buyer's request for repairs, I gather bids so seller can choose whether to move forward with buyer's request. If seller agrees to repairs, I coordinate those repairs, meet the contractor at the home (or provide them with keys at the office), follow up on the repair process and confirm completion, report back to the seller, and deliver the invoice to seller, buyer's agent and escrow. I am concerned I should not be doing these things because of the Contractor Licensing Law. I am also torn, because doing these things seems to be expected."
Fair Housing Conversations
A History of Unfair Housing Practices

At its core, "fair housing" appears to be a simple enough concept. After all, the elimination of housing discrimination, promotion of economic opportunity, and development of diverse, inclusive communities makes basic common sense. Unfortunately, the road to fair housing in the U.S. has been a long and storied one.
| | | | |
| --- | --- | --- | --- |
|  Average Rates |  4.66% |  4.15% |  3.87% |
|  Fees & Points |  0.4 |  0.4 |  0.3 |
|  Margin |  N/A |  N/A |  2.77 |
---
| | | | |
| --- | --- | --- | --- |
|  Average Rates |  4.61% |  4.08% |  3.82% |
|  Fees & Points |  0.4 |  0.4 |  0.3 |
|  Margin |  N/A |  N/A |  2.77 |
---
| | | | |
| --- | --- | --- | --- |
|  Average Rates |  4.55% |  4.01% |  3.77% |
|  Fees & Points |  0.5 |  0.4 |  0.3 |
|  Margin |  N/A |  N/A |  2.76 |
---
| | | | |
| --- | --- | --- | --- |
|  Average Rates |  4.55% |  4.03% |  3.69% |
|  Fees & Points |  0.5 |  0.4 |  0.3 |
|  Margin |  N/A |  N/A |  2.76 |
---
| | | | |
| --- | --- | --- | --- |
|  Average Rates |  4.58% |  4.02% |  3.74% |
|  Fees & Points |  0.5 |  0.4 |  0.3 |
|  Margin |  N/A |  N/A |  2.76 |
---
Heads Up! Code of Ethics Cycle Ending
REALTORS® are required to complete ethics training within two-year cycles and the deadline for the current cycle is December 31, 2018. Training may be completed through your local REALTOR® association, via one of upcoming WR webinars (stay tuned for dates) or you can take it online. A few online options include
NAR's online training
or
Interact CE's Ethics Adventure
.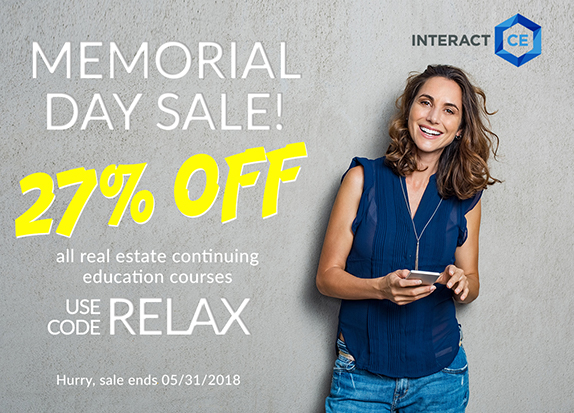 Expires on: 11:59PM PST 05/31/2018 
Promo Code: RELAX  Expires on: 11:59PM PST 05/31/2018 Discount amount: 27%  Restrictions: Cannot be combined with any other offer. Can use as entire cart discount or individual products. Unlimited use until expiration date. Does not apply to Ethics Adventure products.