Get the Facts is a Membership update sent to Washington REALTOR® members and contacts each Tuesday.  
Click
here
if you are having trouble viewing this message.
Weekly Membership Newsletter
April 24, 2018 • Stay Connected!
QUESTION:  The listing broker is the daughter of the Seller. The Seller is an investor and also a licensed real estate broker with the same firm. There is no mention of any of this on the listing. When should any of this information be disclosed? This was the listing broker's response: "We disclose everything to the buyer once a mutual contract is accepted."

---

ANSWER:  The relationship between daughter/listing broker and seller is not a disclosure that is required by state law. State law assumes that listing broker is biased in favor of seller and it is irrelevant if that bias is based on the Agency Law duties owed by listing broker to seller or based on a familial relationship. The REALTOR Code of Ethics, however, may require disclosure of this relationship and broker should ask this question of her local REALTOR Association for assistance in determining the answer to that component of this question.
The fact that seller is a licensed real estate broker is a disclosure that is mandated by Washington law. The License Law says that a broker may be disciplined for: "... Buying, selling, or leasing directly, or through a third party, any interest in real property without disclosing in writing that the person is a real estate licensee; ..." (RCW18.85.361(21)). This is a provision of the License Law that is interpreted and enforced by the Department of Licensing and DOL interprets this provision to mean that a seller/broker must disclose that they are licensed before entering and/or as part of the PSA. The reason this disclosure is required is so that the party on the other side of the transaction is made aware of the fact that the other party is more sophisticated in RE sales and can take precautions to protect their own interests in light of that fact. Therefore, disclosure of seller's licensure after the PSA is fully negotiated and made binding is too late. Seller must disclose the fact that seller holds a RE license either before buyer makes an offer or as part of the PSA, in the form of a counteroffer to buyer's offer, if necessary.
 

The Legal Hotline Lawyer does not represent Washington REALTORS or its members. To browse through our database of past Q & A's, visit www.warealtor.org. Attorney Annie Fitzsimmons writes the Legal Hotline Question and Answer of the Week. Please submit questions to legalhotline@warealtor.org . Please tell us your NRDS number when you e-mail the Hotline with your question.



Inventory Plummets
(Source:
REALTORMag
) Bargain hunters or those looking to break into the housing market may need to face the reality that finding a home for less than $250,000 is getting tougher and tougher. Homes under $100,000 plunged 20.7 percent in March month over month...
King County is king, and counting
(Source:
HousingWire
) While its sports teams, like those in every U.S. city, begin each season dreaming of a first-place finish, Seattle's rate of real estate appreciation has topped the national charts for more than a year and, based on the latest quarterly forecast from Veros Real Estate Solutions, will stay there for the next 12 months...
What Do You Do If You Do The Wrong Thing?

(Source:
Tech Helpline
) It happens. One moment, your laptop or desktop computer is working fine. The next moment: Trouble, with a capital "T." It looks like you have a problem. A big problem.
3 Mistakes RE Pros Are Making With YouTube

(Source:
Katie Lance
) Most markets are facing inventory shortages this time of year. There are simply too many buyers and not enough homes for sale. This requires buyer's agents to get creative and aggressive in order to help their clients get the home they want. There are a lot of ways to get this done while retaining your professionalism.
| | | | |
| --- | --- | --- | --- |
|  Average Rates |  4.47% |  3.94% |  3.67% |
|  Fees & Points |  0.5 |  0.4 |  0.3 |
|  Margin |  N/A |  N/A |  2.76 |
---
| | | | |
| --- | --- | --- | --- |
|  Average Rates |  4.42% |  3.87% |  3.61% |
|  Fees & Points |  0.4 |  0.4 |  0.3 |
|  Margin |  N/A |  N/A |  2.76 |
---
| | | | |
| --- | --- | --- | --- |
|  Average Rates |  4.40% |  3.87% |  3.62% |
|  Fees & Points |  0.5 |  0.4 |  0.4 |
|  Margin |  N/A |  N/A |  2.76 |
---
| | | | |
| --- | --- | --- | --- |
|  Average Rates |  4.44% |  3.90% |  3.66% |
|  Fees & Points |  0.5 |  0.5 |  0.4 |
|  Margin |  N/A |  N/A |  2.75 |
---
| | | | |
| --- | --- | --- | --- |
|  Average Rates |  4.45% |  3.91% |  3.68% |
|  Fees & Points |  0.5 |  0.5 |  0.4 |
|  Margin |  N/A |  N/A |  2.75 |
---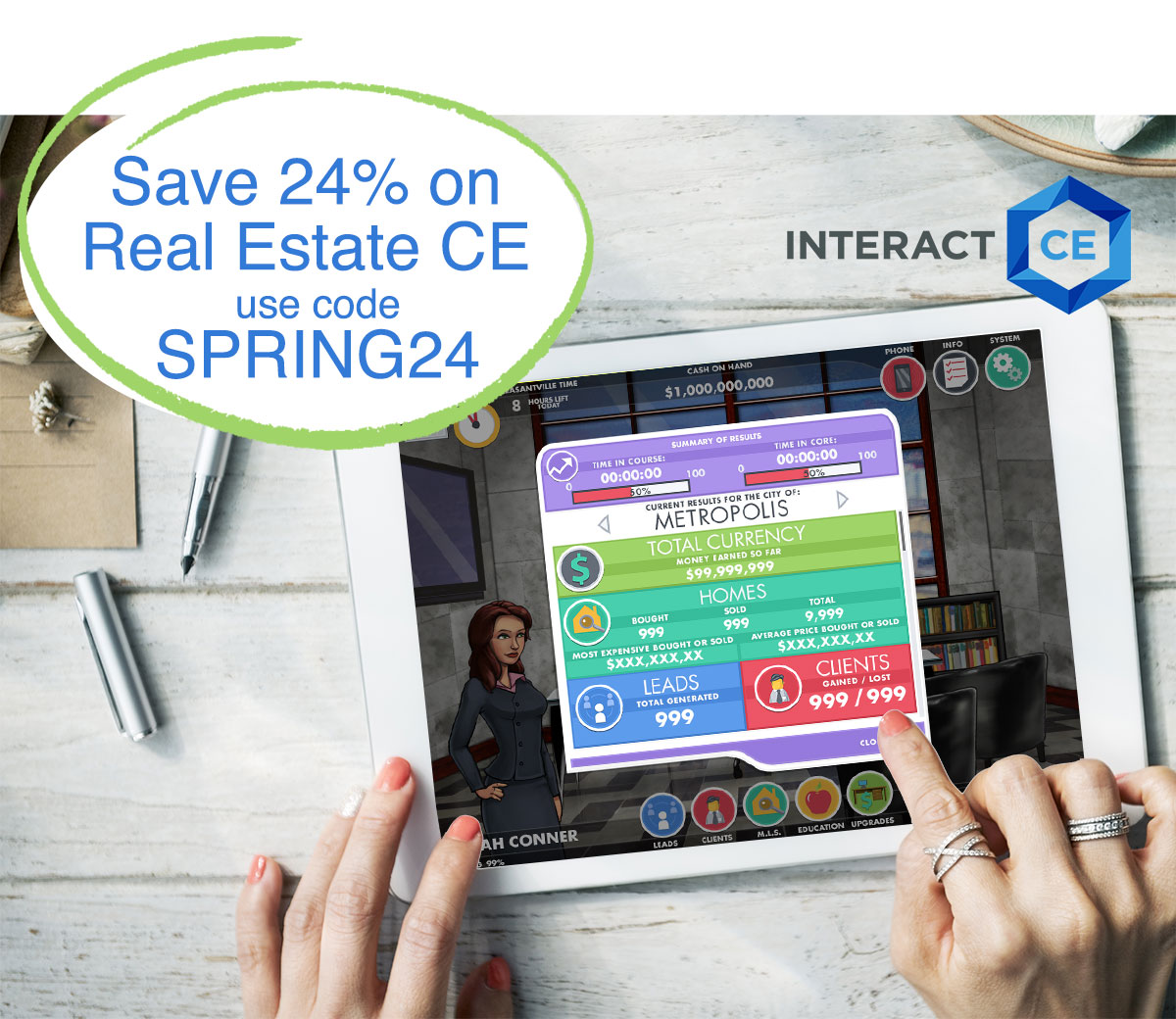 Expires on: 11:59PM PST 04/30/2018 
Promo name: Spring24 Discount amount: 24% Code: SPRING24 -  Restrictions: Cannot be combined with any other offer. Can use as entire cart discount or individual products. Unlimited use until expiration date. Does not apply to Ethics Adventure products