Get the Facts is a Membership update sent to Washington REALTOR® members and contacts each Tuesday.  
Click
here
if you are having trouble viewing this message.
Weekly Membership Newsletter
January 16, 2018 • Stay Connected!
QUESTION:  Lately, I've noticed several brokers writing "Warranty provided by seller is a standard one year builder's warranty" on an addendum to a purchase and sale agreement for new construction. My understanding is that there is not a standard builder's warranty required by statute. What are the ramifications of brokers including this language in purchase and sale agreements for new construction?
---
ANSWER: Broker is correct. There is no statutory or other "standard" one year builder's warranty. The existence of any such warranty is a pervasive and enduring myth in our industry.
The ramification of broker including this language in a new construction purchase agreement is that broker will potentially be liable, after closing, when buyer attempts to enforce a warranty that does not exist. Broker will have led buyer to believe that buyer has the benefit of some warranty that does not exist. As a result, buyer will have taken no action to actually secure a warranty. Moreover, based on a reliance that buyer has a warranty that buyer does not have, buyer may be more liberal in allowing the transaction to close with punch list items or other unsatisfactory conditions remaining.
When, after closing, buyer learns that buyer has: a) no warranty; and b) a builder who is unwilling or unable to correct problems, buyer's only recourse for recovery of damages suffered by buyer may be the broker who incompetently prepared the purchase agreement. Recall that brokers are held to the standard of care of a lawyer when preparing a purchase agreement. This broker's purchase and sale agreement, including reference to a non-existent warranty as buyer's remedy for construction defects, will be compared to a purchase agreement that a lawyer would be expected to prepare. In any such legal action, broker will have a difficult defense.
There is no "standard one year builder's warranty." If buyer wants a new construction warranty, then buyer should be advised to seek legal counsel for assistance in drafting language that will obligate builder to provide a warranty. If the parties include Form 26, the Pre-Sale Addendum, in their purchase agreement, there is language in that form obligating builder to provide a one year warranty. Broker should advise buyer to seek the advice of legal counsel for assistance in determining whether that boiler plate language is sufficient for buyer's purposes.
 

The Legal Hotline Lawyer does not represent Washington REALTORS or its members. To browse through our database of past Q & A's, visit www.warealtor.org. Attorney Annie Fitzsimmons writes the Legal Hotline Question and Answer of the Week. Please submit questions to legalhotline@warealtor.org . Please tell us your NRDS number when you e-mail the Hotline with your question.



2018 Price Forecast in WA
(Source:
NAR
) Home prices in Washington are expected to increase by 5.5% considering the tax impact, current market conditions, interest rate effect, and the employment and construction momentum.
Employers Can Now Add to Down Payments
(Source:
REALTOR Mag
) A new program allows employers to help workers' down payment on a home, similar to how companies contribute to a 401(k). HomeFundMe, a Fannie Mae and Freddie Mac-approved down payment crowdfunding platform, allows borrowers to crowdfund their down payment from several sources...
Legislative Day is Here!
The Legislative Day event kicks off tomorrow, Wednesday, January 17th. Are you joining the hundreds of REALTORS to network and talk with your Legislators about key housing issues? Be prepared and download the
Washington REALTORS Events App
to help you stay connected and access materials during our Legislative Day event next week. Get agendas, maps, meeting materials, network with other brokers, and more.
Smarter Ways to Collect and Use Testimonials
(Source:
REALTOR Mag
) Client testimonials are crucial to building a robust real estate brand, but you need to learn how to collect and use them correctly in order to get the most out of this vital marketing asset.
Facebook Post Fatigue
(Source:
Results Series
) Several recent studies suggest that limiting the number of times you're posting —and focusing on quality, interesting content— can help boost both your reach and engagement.
Washington REALTORS® Legal Hotline Lawyer Annie Fitzsimmons answers the following question: How do you know when you can put the Seller's property back on the market after a "Sale Fail"?
| | | | |
| --- | --- | --- | --- |
|  Average Rates |  3.99% |  3.44% |  3.46% |
|  Fees & Points |  0.5 |  0.5 |  0.4 |
|  Margin |  N/A |  N/A |  2.75 |
---
| | | | |
| --- | --- | --- | --- |
|  Average Rates |  3.95% |  3.38% |  3.45% |
|  Fees & Points |  0.5 |  0.5 |  0.4 |
|  Margin |  N/A |  N/A |  2.75 |
---
| | | | |
| --- | --- | --- | --- |
|  Average Rates |  3.99% |  3.44% |  3.47% |
|  Fees & Points |  0.5 |  0.5 |  0.3 |
|  Margin |  N/A |  N/A |  2.75 |
---
| | | | |
| --- | --- | --- | --- |
|  Average Rates |  3.94% |  3.38% |  3.39% |
|  Fees & Points |  0.5 |  0.5 |  0.3 |
|  Margin |  N/A |  N/A |  2.75 |
---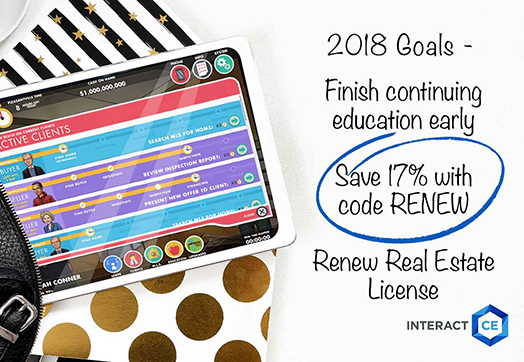 Expires on: 11:59PM PST 01/31/2017 Discount amount: 17% Code: RENEW  Restrictions: Cannot be combined with any other offer. Can use as entire cart discount or individual products. Unlimited use until expiration date. Does not apply to ethics adventure products.