Get the Facts is a Membership update sent to Washington REALTOR® members and contacts each Tuesday.  
Click
here
if you are having trouble viewing this message.
QUESTION:   If a buyer waives the inspection contingency on form 35, must a seller allow access to a licensed home inspector for the purposes of performing a home inspection?
---
ANSWER:  Absolutely not. An inspection of seller's home is an invasive and potentially damaging process. The only reason a seller is ever compelled to allow an inspection of seller's home is if seller granted that right specifically. In the absence of an inspection (or similar) contingency, seller does not grant buyer access to bring an inspector through seller's property, using the statewide forms. Most MLS's will sanction a buyer's broker who uses an MLS key to access seller's home for an inspection without seller's permission.
 

The Legal Hotline Lawyer does not represent Washington REALTORS or its members. To browse through our database of past Q & A's, visit www.warealtor.org. Attorney Annie Fitzsimmons writes the Legal Hotline Question and Answer of the Week. Please submit questions to legalhotline@warealtor.org . Please tell us your NRDS number when you e-mail the Hotline with your question.



Real Estate Text Scam Makes Bold Accusation
(Source:
REALTOR Mag
)
Beware: Another phishing scam is targeting real estate pros. A broker recently received a text message claiming to be from the National Association of REALTORS® and accusing her of sending "racist texts and emails." The text message demanded she pay a $1,345 fine.   [Read more...]
Median home prices climbed nearly 20% in Northwest metros in July
(Source:  
HousingWire
)  Home prices continued to rise in the Northwest in July, hitting nearly 20% increases in some areas, according to the latest report from Northwest Multiple Listing Service. Home prices increased an average 9% in the Northwest area in July, according to the report, which covers 23 counties in and around Washington state.  [
Read more...
]
Knowing What These Tech Buzzwords Mean Could Save Your Real Estate Business
(Source:
TechHelpline Lounge
) Malware. Phishing. Vishing. Smishing. Pharming. Spoofing. Ransomware. Spyware. Virus. You probably recognize some of these cyber security terms, perhaps even most of them. But understanding what these words mean and how these scams work could help you prevent serious damage to your computer, your smartphone and even your real estate business. [
Read more...
] 
Stop Ignoring Video Marketing: Tips on How to Leverage
(Source:
RISMedia
) It's not just cat videos the public is going crazy over; it's all videos, including real estate videos. Marki Lemons-Ryhal, REALTOR®, teacher, social media expert and Facebook Live video host, swears by live video. "By the end of 2017, 74 percent of all content viewed online will be in the form of a video," she says.  [
Read more...
] 
Primary Mortgage Rates Survey

(updated every Thursday)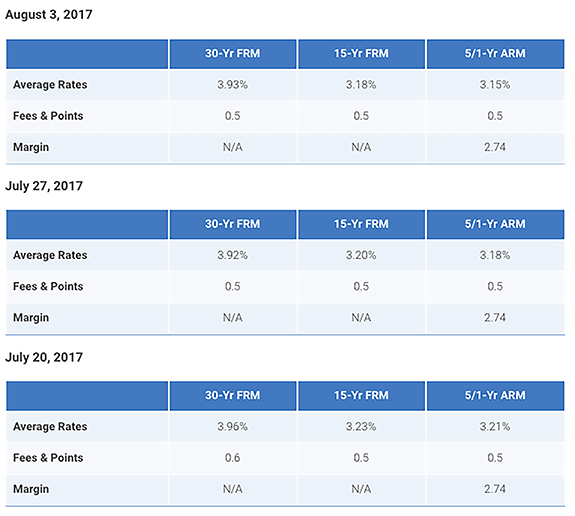 | | | | | |
| --- | --- | --- | --- | --- |
| Date | Class | Location | CE |   |
| 10-Aug | Increasing Your SEO & Online Traffic | Spokane | 4.0 | More info... |
| 10-Aug  | Internet Correct:  Etiquette & Ethics in the Ethers | Spokane | 4.0 | More info... |
| 25-Aug | Current Issues in WA Residential Real Estate | Bellingham | 3.5 | More info... |
| 25-Aug | NAR Code of Ethics  | Bellingham | 4.0 | More info... |
| 31-Aug | Don't Get Whacked by the WACs  | Walla Walla | 3.5 | More info... |
| 31-Aug  | To Disclose or Not Disclose  | Walla Walla | 4.0 | More info... |
| 1 - Sep | To Disclose or Not Disclose (AM)     | Lewiston, ID | 3.5 | More info... |
| 1 - Sep  | To Disclose or Not Disclose (PM) | Lewiston, ID | 3.5 | More info... |
| 8 - Sep  | Global Real Estate Local Market | Vancouver | 7.5 | More info... |
| 13-Sep | Social Media Marketing for REALTORS | Olympia | 3.5 | More info... |
| 13-Sep | Real Estate Safety Matters | Olympia | 3.5 | More info... |
| 14-Sep  | Disclosure Requirements in RE Transactions | Kennewick | 7.5 | More info... |
| 14-Sep  | Water Right & Water Supply Issues for RELATORS® | Walla Walla  | 3.5  | More info... |
| 15-Sep  | Global Real Estate Transaction Tool | Vancouver | 7.5 | More info... |