Get the Facts is a Membership update sent to Washington REALTOR® members and contacts each Tuesday.  
Click
here
if you are having trouble viewing this message.
QUESTION:  Buyer and Seller are under contract. Contract has a Form 22Q and a Form 22EF. Form 22EF paragraph three shows Buyer is relying on contingent funds from sale of 22Q house. 22Q house failed to close. Buyer informed Seller within two days of said failure. 22Q paragraph three states if house fails to close through no fault of Buyer, the agreement is terminated and Earnest Money is refunded to Buyer. However, Form 22EF paragraph four states if Buyer fails to close because contingent funds identified in paragraph three are not available, buyer is in default and Seller shall be entitled to remedies provided in the agreement (Earnest Money). These seem to contradict each other (22Q:3 and 22EF:4). Was Form 22EF necessary to disclose the contingent funds or did Form 22Q accomplish this? If 22Q accomplished this, why would one also use 22EF?
---
ANSWER:  Form 22EF should NOT be used to notify seller that buyer is relying on contingent funds that are already the subject of a pending sale contingency. Form 22EF attempts to make this clear in paragraph 1(b) which says: "Non-Contingent Funds" means funds that Buyer currently has in its possession and for which there is no contingency, such as ... pending sale of buyer's property (NWMLS Form 22Q or equivalent)." When buyer and seller agree to include a Form 22Q in the transaction, seller is on notice that buyer is relying on the proceeds of the pending sale in order to complete the purchase of seller's property. Providing that same information again, in a Form 22EF, is needlessly and dangerously, redundant. Inclusion of a Form 22EF in this situation creates, as described by the question asked, an internal conflict of terms within the agreement.
 

The Legal Hotline Lawyer does not represent Washington REALTORS or its members. To browse through our database of past Q & A's, visit www.warealtor.org. Attorney Annie Fitzsimmons writes the Legal Hotline Question and Answer of the Week. Please submit questions to legalhotline@warealtor.org . Please tell us your NRDS number when you e-mail the Hotline with your question.



Bob Goldberg Takes Reins as NAR's 12th CEO
(Source:
REALTOR Mag
)
The National Association of REALTORS® officially has a new chief executive. On Tuesday, Bob Goldberg took the helm, launching "a fresh chapter in our association's 109-year history," said NAR President William E. Brown in a video message.   [Read more...]
2017 Housing Pulse Survey
(Source:  
NAR
)  This survey, which measures consumers' attitudes and concerns about housing issues in the nation's 25 largest metropolitan statistical areas on a biennial basis, found that 84 percent of Americans believe that purchasing a home is a good financial decision, the highest since 2007.  [
Read more...
]
Too Busy? Tips for Effective Outsourcing
(Source:
YPN Lounge
) Be it personnel, materials for production, infrastructure, or even skill—anything can be outsourced. All you need to know is the best way to find the right resource to meet your needs. Outsourcing can be a nightmare if the resource you find is illegitimate, which could lead to eventual hurt and disgrace for a business. Here are six steps that should be followed before and during the process of outsourcing to ensure success. [
Read more...
]
Photos Taking Up Too Much Space?
(Source:
Tech Helpline
) When you see a warning that your storage is 90% full, you might begin to panic. And you probably know exactly what's causing your problem: your photos. For most real estate professionals, photos and videos have become both a blessing and a curse. They are a blessing because powerful visuals help sell homes. But they are also a curse because they are data hogs.  [
Read more...
]
Primary Mortgage Rates Survey

(updated every Thursday)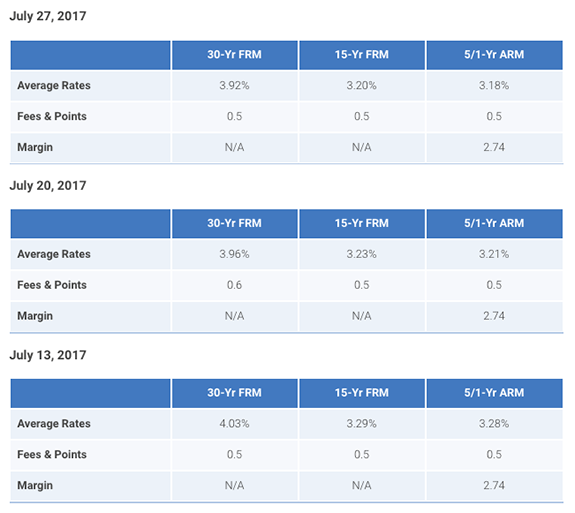 | | | | | |
| --- | --- | --- | --- | --- |
| Date | Class | Location | CE |   |
| 7-Aug | Regional Professional Standards | Wenatchee | 7.5 | More info... |
| 10-Aug | Increasing Your SEO & Online Traffic | Spokane | 4.0 | More info... |
| 10-Aug  | Internet Correct:  Etiquette & Ethics in the Ethers | Spokane | 4.0 | More info... |
| 25-Aug | Current Issues in WA Residential Real Estate | Bellingham | 3.5 | More info... |
| 25-Aug | NAR Code of Ethics  | Bellingham | 4.0 | More info... |
| 31-Aug | Don't Get Whacked by the WACs  | Walla Walla | 3.5 | More info... |
| 31-Aug  | Best of the Legal Hotline | Walla Walla | 4.0 | More info... |
| 1 - Sep | To Disclose or Not Disclose (AM)     | Lewiston, ID | 3.5 | More info... |
| 1 - Sep  | To Disclose or Not Disclose (PM) | Lewiston, ID | 3.5 | More info... |
| 8 - Sep  | Global Real Estate Local Market | Vancouver | 7.5 | More info... |
| 13-Sep | Social Media Marketing for REALTORS | Olympia | 3.5 | More info... |
| 13-Sep | Real Estate Safety Matters | Olympia | 3.5 | More info... |
| 14-Sep  | Disclosure Requirements in RE Transactions | Kennewick | 7.5 | More info... |
| 15-Sep  | Global Real Estate Transaction Tool | Vancouver | 7.5 | More info... |
| 20-Sep | Advanced 1031 Exchanges - 3.0 | Hood River | 3.0 | More info... |