Get the Facts is a Membership update sent to Washington REALTOR® members and contacts each Tuesday.  
Click
here
if you are having trouble viewing this message.
QUESTION:  I am the buyer's agent. On form 21, item #13, "Charges and Assessments," I typically check the box "assumed by buyer". My reasoning is that if the sewer capacity charge has not been paid off, a buyer will agree to take over payment after closing. Also if I check the other box that says "prepaid in full by seller at closing" the listing agent always requests that it be changed to "assumed by buyer." Is this the correct thing to do, should I allow this change to be made?
---
ANSWER:  On the "Charges and Assessments" provision, buyer's broker should ALWAYS check the box indicating "seller will prepay in full, at closing." If buyer is aware of a capacity charge that buyer is willing to assume, then buyer should agree, on a separate addendum, to assume the specified capacity charge. Buyer should never mark the box stating that buyer will assume "charges and assessments" because there could be other charges or assessments, unknown to buyer, that buyer will also assume by marking that box. If listing broker requests that buyer mark the box indicating buyer's assumption of "charges and assessments," the request back to listing broker should be for a complete accounting of all the "charges and assessments" buyer will assume. With provision of that list, buyer should then determine which of those buyer is willing to assume. The best practice for a buyer's broker is then to keep the "prepaid by seller" box marked and identify specific charges that seller and buyer agree buyer will assume, on a separate addendum, with buyer's agreement to assume those specific charges and assessments only. This approach allows the parties to freely negotiate responsibility for payment of "charges and assessments" and it keeps seller as the party responsible for knowing the "charges and assessments" associated with ownership of seller's property. There is no doubt that between buyer and seller, seller is the party in the best position to know the "charges or assessments" that flow from ownership of the property.
 

The Legal Hotline Lawyer does not represent Washington REALTORS or its members. To browse through our database of past Q & A's, visit www.warealtor.org. Attorney Annie Fitzsimmons writes the Legal Hotline Question and Answer of the Week. Please submit questions to legalhotline@warealtor.org . Please tell us your NRDS number when you e-mail the Hotline with your question.



Confident Homeowners Flirt with Selling
(Source:  
REALTORMag
) Seventy-one percent of homeowners say now is a good time to sell, according to the National Association of REALTORS®'s second-quarter Housing Opportunities and Market Experience (HOME) survey. The percentage is up considerably from the 61 percent of homeowners who said it was a good time to sell last year. Owners in the Midwest are the most excited about potentially selling at 76 percent, surpassing the West at 72 percent for the first time this year.  [
Read more...
]
Americans regain confidence in June
(Source:  
HousingWire
)  Americans lost confidence in the economy in May, however they regained that confidence in June, according to the Consumer Confidence Survey conducted by The Conference Board by Nielsen, a provider of information and analytics around what consumers buy and watch. The Consumer Confidence Index increased to 118.9 in June, up from 117.6 in May. The Present Situation Index increased from 140.6 to 146.3 but the Expectations Index dropped from 102.3 last month to 100.6 in June.  [
Read more...
]
Why You Need Predictive Analytics to Thrive
(Source:
Inman
) As you may know, big data — the growing compendium of data generated by our increasingly digital lives marked by social media, Google searches, public records, financial data, online purchases and more — is rapidly reshaping real estate (and nearly every other industry)...Below are three ways agents can use predictive analytics to get results.  
Read more...
10 Things You Probably Didn't Know Google Could Do for You
(Source:
Tech Helpline
) It's not often that a company provides a service so popular that it becomes a verb, but you probably have heard the phrase "Just Google it" many times. Doing a search using Google has become part of most people's daily routine: 4.4 billion worldwide searches every single day.  [
Read more...
]
Primary Mortgage Rates Survey

(updated every Thursday)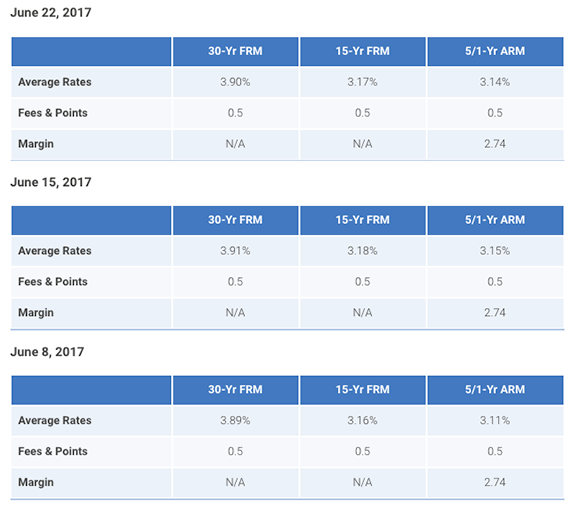 | | | | | |
| --- | --- | --- | --- | --- |
| Date | Class | Location | CE |   |
| 27-July  | NAR Code of Ethics 3 | Olympia | 3.0 | More info... |
| 10-Aug | Increasing Your SEO & Online Traffic | Spokane | 4.0 | More info... |
| 10-Aug  | Internet Correct:  Etiquette & Ethics in the Ethers | Spokane | 4.0 | More info... |
| 13-Sep | Social Media Marketing for REALTORS | Olympia | 3.5 | More info... |
| 13-Sep | Real Estate Safety Matters | Olympia | 3.5 | More info... |
| 14-Sep  | Disclosure Requirements in RE Transactions | Kennewick | 7.5 | More info... |